Yoga Sadhana : Best Yoga School in Rishikesh
Yoga Sadhana is the epitome of genuine yoga teachings and the best yoga school in Rishikesh. Our reputation as the best originates from our unwavering commitment to preserving the typical significance of yoga while incorporating modern-day insights to produce a transformative and improving experience for our trainees.
What sets Yoga Sadhana apart as the best yoga school in Rishikesh is our holistic strategy for training. We have developed the systematic approach to human movement based on somatic and embodied movements. We surpass physical postures, diving deep into yoga viewpoint, pranayama, reflection, and the art of positioning. This detailed educational program empowers our pupils to welcome yoga exercise as a way of life, not just a workout, it will challenge and eventually change the way you see and understand the body.
The peaceful as well as spiritual setting of Rishikesh called the yoga capital of the world, offers an excellent setting for our Yoga Teacher Training Academy. Surrounded by stunning Mountain ranges and the holy Ganges River, this city intensifies the transformative power of yoga, making it an optimal area for extensive self-discovery and personal development.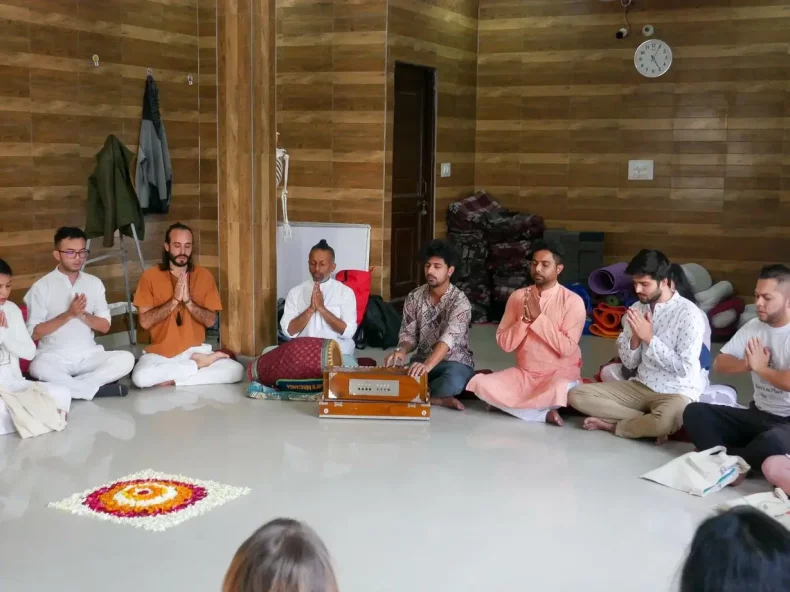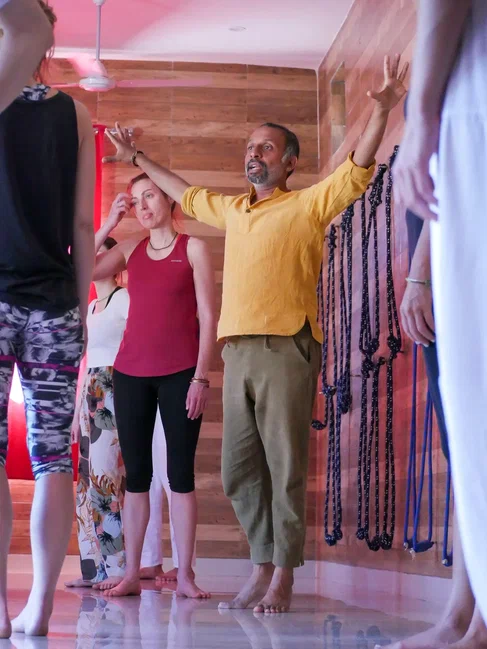 Yoga Sadhana is a well-established international Yoga shala since 2014, Yoga Sadhana means the practice of Yoga, it was co-founded by a Guru and a Sishya, Acharya Shri Parveen Nair and his senior disciple Shri Louis Lim ( Ramana).
We now have 4 branches worldwide, Malacca Malaysia, Rishikesh India, Shenzhen China, and Phnom Penh Cambodia. Bringing and embracing yoga practitioners around the world together as one family.
To live life to the fullest, we believe one must live fully embodied, aligning body, mind, heart, and soul. The Experiential and Embodied Programme we designed offers a variety of benefits. It reduces discomfort, strain, and stress in the body. It transforms negative emotional experiences, creates a greater sense of self, builds resilience, and offers hope. It is a holistic form of healing that is grounded in the relationship between the mind and the body.
Yoga Sadhana: A Journey to Excellence - Best Yoga School in Rishikesh

At Yoga Sadhana assists you on a transformative voyage of self-discovery, development, and excellence through the profound technique of yoga. Rooted in old practices, our facility is a haven for all candidates, whether you are a skilled yogi or a beginner taking the initial steps on your path. Our sanctuary of calmness supplies an unrivaled chance to discover the old art of yoga, assisting you towards physical, mental, as well as spiritual quality. Our training will certainly give you a new and refreshing perpective, and the change in perspective means it might take you a few passes through to really hear, see, and integrate the significance of what we are teaching. That time will be well spent with us.
At Yoga Sadhana – Best Yoga School in Rishikesh, we believe that yoga practices is not merely a physical practice but a way of living. Our experienced as well as compassionate team of teachers is devoted to sharing their extensive knowledge, refined via years of specialised practice and research, to enhance your yogic journey. Whether you're a specialist or a beginner taking your very first steps, our courses are tailored to accommodate all levels and capacities.
Along with our routine courses, we offer workshops as well as resorts that look into specialised elements of yoga, permitting you to grow your practice as well as knowledge. Immerse on your own in the calm environment as well as revitalise your spirit as you embark on this journey to quality.
Rishikesh yoga teacher training center - Yoga Sadhana: Where Yoga Meets Perfection
At Rishikesh yoga teacher training center – Yoga Sadhana, we have developed a harmonious area where the ancient art of yoga exercise effortlessly mixes with the quest for excellence. We strongly believe that yoga is not regarding achieving unattainable perfects but rather about discovering excellence within ourselves, embracing our uniqueness, and supporting our mind, body, and heart.
We highlight mindfulness, urging you to remain existing in each moment as well as embrace self-compassion. Rather than pursuing perfection, we welcome you to appreciate the progression and growth that features constant technique.
Discover a supportive area of similar people that share the enthusiasm for yoga as well as self-improvement. Together, we embark on a journey where yoga meets perfection – a journey that celebrates the elegance of flaws as well as encourages you to become the very best version of yourself.
Join Rishikesh yoga teacher training center – Yoga Sadhana today and experience the transformative power of yoga exercise in a nurturing as well as motivating setting.
Rejuvenate Your Mind, Body & Soul: Yoga Sadhana in Rishikesh
Discover a transformative experience in the middle of the peaceful appeal of Rishikesh at Yoga Sadhana – where you can revitalize your mind, body, as well as spirit. Beyond the physical positions, the Yoga Sadhana in Rishikesh offers an opportunity to grow self-awareness and mindfulness and aids to find a renewed feeling of equilibrium and consistency.
In this spiritual area, you'll find a supportive neighborhood of similar people from around the world, developing links that go beyond boundaries and societies.
Come and experience the transformative power of Yoga Sadhana in the spiritual heart of Rishikesh. Allow the natural beauty of this spiritual land as well as the knowledge of yoga practices to recover and invigorate your mind, body, and also heart. Begin your journey today and find inner peace and tranquility in the middle of the enchanting welcome of Rishikesh.
Our mentor Acharya Shri Parveen Nair, who is also an International reputed Yoga Guru, is based and leading Yoga Sadhana (India) in the world capital of Yoga, Rishikesh in the foothills of the Himalayas. Both Shri Parveen Nair and Shri Ramana Louis conduct International Yoga Teacher Training Courses (TTC) and Yoga Workshops & Retreats internationally in Asia, Europe, and South & North America Continents.
Yoga Sadhana has trained and certified thousands of qualified Yoga teachers worldwide. There are graduates around the world such as in different parts of Europe, countries from South and North America, and Asian continents. Providing greater opportunities for our certified Yoga Teachers and students to teach and exchange learning experiences with us around the globe. Our teachers must go through a continuous education and learning program with our mentor and the lead trainer to keep up to the international standard for professional Yoga Teachers.
At Yoga Sadhana, we present detailed and specific approaches to the personal embodiment teachings through a carefully graded and systematic program that has been researched and developed by our group of professional teachers, working on detailed alignment, absolute safety, progressive and methodical approach to allow our students to interact with awareness, perception, and their experience and embodiment, improving and reviving of the natural functions of the body.
The unique and functional use of yoga props at our school facilitates learning and helps with adjustment in yoga postures according to individual needs. Therefore, it helps you overcome and prevents many stresses and strains on the body. Essentially, it promotes a firm foundation for holistic health and well-being. As we always emphasize "every asana is the therapy itself if it is taught and practiced correctly"
Yoga Sadhana is dedicated to the teachings of Advaita Vedanta philosophy, embracing the teachings of the Upanisads through the voice of the Rishis as the way of life. Our inspiration is Bagawan Shri Ramana Maharishi of Arunachala. His method of Atma vicharana (self-inquiry) is our motto.
Journey to Serenity: Yoga Sadhana - Best Yoga teacher training Centers in Rishikesh
Start a transformative Trip to calmness with Yoga Sadhana – a course that leads you to find inner peace, equilibrium, and extensive self-awareness. At Yoga Sadhana, we believe that peacefulness is not an elusive principle yet a fundamental state within each of us. Our yoga teacher training center in Rishikesh is a haven where you can run away from the chaos of life and reconnect with your real self.
Through the practice of yoga, meditation, and mindfulness, you'll embark on a trip of self-discovery, opening the doors to the tranquility that exists within. Our competent trainers, fluent in various yoga styles, will carefully guide you, despite your experience degree, to discover the technique that resonates with your heart.
Yoga Sadhana: Your Gateway to Inner Peace - Best Yoga Center in Rishikesh
In the midst of life's stress, finding minutes of harmony as well as internal tranquility is vital for our wellness. At Yoga Sadhana, we provide you with a portal to discover the boundless storage tank of tranquility that lies within you. Yoga Sadhana is greater than a best yoga center in Rishikesh; it is a refuge where you can momentarily detach from the anxieties of day-to-day life and reconnect with your true self. Our courses include a varied range of yoga designs, from rejuvenating Ashtanga to mild Yin, ensuring there is something for everyone.
This newly found understanding will certainly enable you to launch stress, locate equilibrium, as well as cultivate an extensive sense of inner tranquility that penetrates every facet of your presence.
Let Yoga Sadhana be your guiding light, leading you to the portal of serenity that stays within your heart and soul. Begin your journey today and experience the transformative power of yoga in fostering lasting peace and harmony within yourself.